Dylan's Walking Page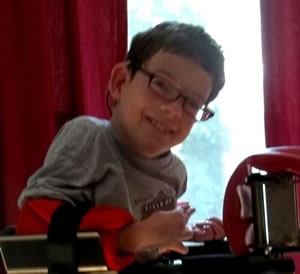 Dylan Tarapilli's bio, by his mom.
Dylan is 11 years old and diagnosed with cerebral palsy. All of his limbs
are affected and he has never walked independently. Dylan was born a
premature triplet. He had an identical brother that died from an infection
in the hospital nine days after birth and a fraternal sister that is now
doing well and is not diagnosed with cerebral palsy. Dylan is also hearing
impaired and uses a cochlear implant to hear. Despite all his challenges,
he is extremely bright and happy and determined to change the way people
think about quadriplegics. Dylan faithfully believes that God has a
special purpose for him to fulfill and lives a very full and joyful life.
He is an inspiration to his family and friends. He attends public school
in our town, enjoys bowling and baseball, and attends junior church each
week where he has many friends. He rarely complains of the pain and
discomfort that comes with having uncontrollable muscle spasms in his arms
and legs. He has used a power wheelchair since the age of 5. However,
sitting all the time has taken a toll on his body. One year ago x-rays
revealed that Dylan's leg muscles were so tight that his hip was beginning
to come out of the socket. Surgery was scheduled immediately to lengthen
muscles in hopes of preventing damage to the hip sockets. We knew that if
we did not find a way for him to bear weight and exercise his legs, his
problems would worsen and his life would be filled with countless
surgeries, medical procedures and pain. After surgery last September he
could straighten his legs for the first time in several years. Dylan
insisted that it was time for him to walk which lead to me searching the
Internet for a gait trainer. Most of what I found was designed for someone
that already could walk some, not for a person that has never had the
ability.
When I found the New LiftWalker web site, I was immediately interested. It
was clear to me that this device was different and could in fact be used
by someone as challenged as Dylan. When I saw Dylan's reaction to the
site, I knew it was time to contact Charlie. It has been an adventure and
we were blessed to be a part of it. Our insurance covered the expense and
Charlie personally delivered this walker to Dylan in May just two days
before his 11th birthday. My hope for the future is that Dylan will
continue to gain strength and endurance using this amazing device. He has
already made progress in this short amount of time. This gives him
confidence to keep trying to do what many believe is impossible. He just
doesn't want to be in a wheelchair all the time and now he doesn't have
to.