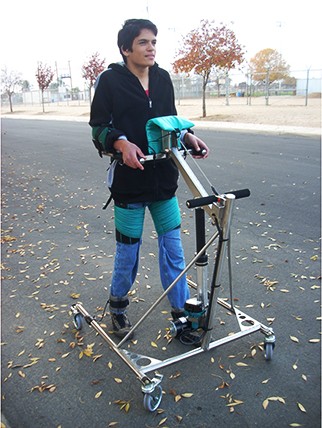 New LiftWalker
2015 New LiftWalker by Ideomotion, LLC
Designed to maximize the untapped natural abilities of the wheelchair-bound.
This back saving tool gives your client or family member safe and productive time on their feet.
Useful for many more individuals than the Original LiftWalker.
Easier, faster, more comfortable to use than the Original LiftWalker.
Protect yourself or staff from painful and costly back injuries.
All stainless steel, 12 volt electric. Includes charger and two high capacity Nickel Metal Hydride batteries.
Suitable for those between 3'6" and 6'6″ in height and up to 250 lbs. Juvenile, preschool, and X large models available.
Easy adjust thoracic prompt is fitted in moments and comfortably lifts to standing in seconds.
New thigh prompts make standing possible for almost anyone. Attach while seated.
Designed for high stability so your client cannot fall out of it or tip it over.
Lift your client from their wheelchair or bedside.
Excellent tool for safe and dignified toileting.
Use optional transfer sling for easy sitting transfers to chairs, bedside, changing table, or toilet.
When fitted with ankle and knee-height anti-scissoring prompts it makes smooth walking steps possible.
Optional weighted ankle prompts gently stretch contracted leg muscles, dampen wild gait, and offer weight training.
Safer, easier, and more mobile than parallel bars.
Increase productivity of your staff while lightening their workload and reducing back injuries.
Custom fitted for your widest wheelchairs and narrowest doorways.
Standard production and custom models available.
Finest stainless steel and aircraft grade materials. American craftsmanship throughout.
Built to last and deliver years of trouble free service.